1)
New iPod shuffle
The new iPod shuffle has got buttons, VoiceOver and playlists. It's small, wearable and has the clip, plus some great features. It offers :
>easy to use buttons,playlists, with Genius mixes and VoiceOver.
>This 2GB music player is tiny and is said to deliver 15 hours of music.
>Comes in 5 colors, and sells for just $49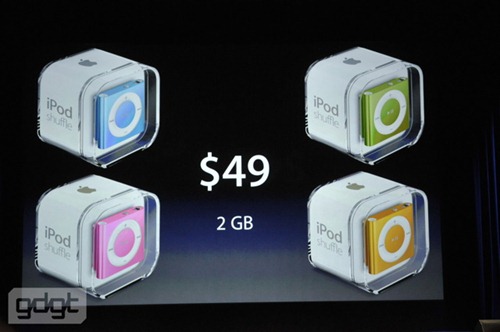 2)New iPod nano
The new iPod nano is really small and amazing, with
> easy to use and multi-touch user interface.
>It's 46% smaller and 42% lighter than its predecessor.
>Hard volume buttons, VoiceOver, FM radio, Nike+, pedometer, and 24 languages.
>24 hours of audio playback.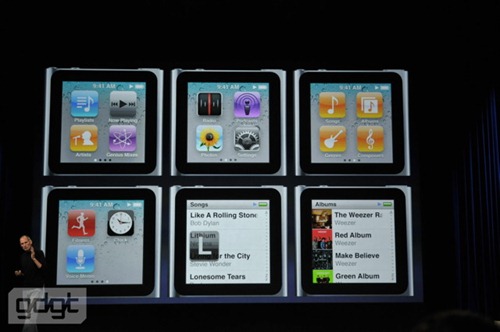 It also has a clip and the screen can be rotated if the nano is clipped on is in a non-standard direction. It is sleek and comes in 6 awesome colors.
The new iPod nano comes in 2 models – 8GB sells for $149 and 16GB sells for $179.
New ipod touch 4G launched
Apple also the much anticipated new iPod Touch in its Special event. The new iPod touch is really cool and comes with amazing iPhone 4 features like:
> Facetime video calling,
>Retina display,
>HD video recording and Game center.
>iPhones and iPod touches can FaceTime one another.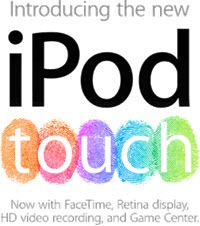 The new iPod touch has 4x the number of pixels with a remarkable display. It has got the A4 chip, the same chip that powers the iPhone. There is also 3-axis gyro, iOS 4.1 with Game Center, a front-facing camera with FaceTime and a rear camera for HD video recording and photos. There is no information about the no. of megapixel in back camera.

The remarkable difference between old and new iPod touch design is:
> New iPod touch has weight reduced by 14 grams,
> depth reduced by 1.3mm, width decreased by .1 inches and height increased by .1 inches.
Prices and Availability – It comes in three models: 8GB for $229, 32GB for $299, and 64GB for $399.
They're up for pre-order and will be available next week.